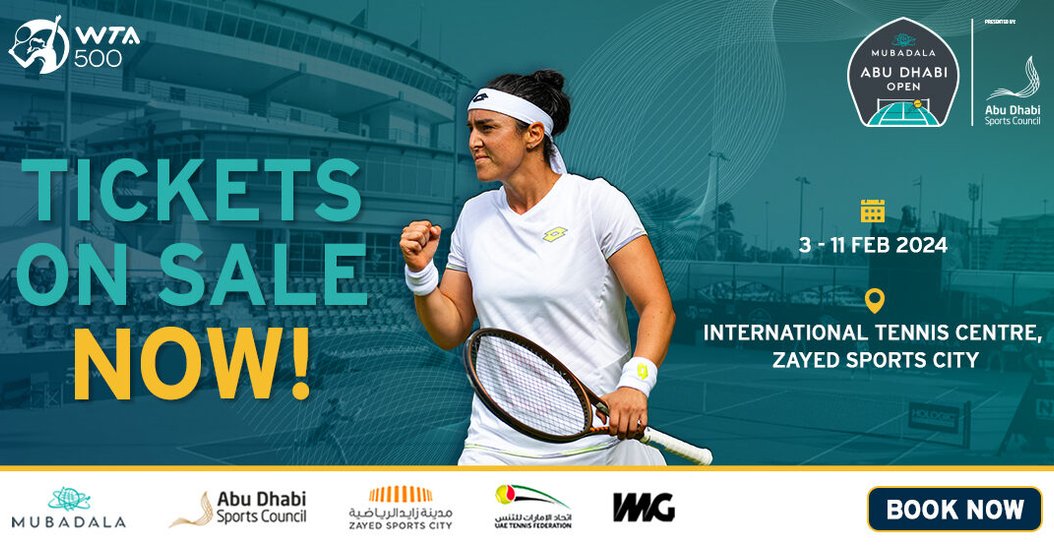 Tickets now on sale, starting at just AED 25 for adults with free tickets available for children under 12 for first six days of tournament  
Wednesday, 11 October 2023 – Abu Dhabi, UAE
The countdown to the second edition of the highly anticipated Mubadala Abu Dhabi Open has officially begun and tickets are now on sale. In less than four months, this premier tennis event will return to the International Tennis Centre at Zayed Sports City in Abu Dhabi. Taking place from 3 to 11 February 2024, fans and spectators from around the world can now reserve the best seats in the house for this thrilling nine-day tennis spectacle. 
Hosted in partnership with Mubadala and Abu Dhabi Sports Council, the WTA 500 event will bring together the world's top female players at Zayed Sports City's International Tennis Centre, including fan-favourite and current top-10 player, Ons Jabeur. 
"I'm excited to be heading to Zayed Sports City for the Mubadala Abu Dhabi Open in February 2024. The fans in this region have always been so generous with their love and support and I can't wait to get on court for this incredible tournament.," said Ons Jabeur. 
 Mansour Alketbi, Executive Director – Digital and Corporate Services at Mubadala Investment Company and Mubadala Foundation representative said: "We are delighted the Mubadala Abu Dhabi Open will soon return and will welcome exceptional talent such as Ons Jabeur.  Her participation will ensure we showcase world-class tennis in the UAE and reinforces our efforts to empower talent both on regional and international stages. The Mubadala Abu Dhabi Open continues our legacy and commitment to tennis in the Emirates and highlights our dedication to promoting sporting excellence and inclusivity, and making high-level tennis accessible to the local community." 
The upcoming nine-day championship will build on the success of the inaugural 2023 event, with an enhanced Fan Village promising an action-packed event catering to families and sports enthusiasts both on and off the court. In addition to participating in player clinics, top-ranking players will also be part of meet-and-greet events with ticketholders, offering spectators an opportunity to interact with their favourite tennis heroes. 
As the official ticket sales go live today, fans are encouraged to secure their spots early to witness world-class tennis action and the opportunity to see their favourite athletes in action. Whether you're a dedicated tennis fan or searching for a family friendly event, the Mubadala Abu Dhabi Open promises to deliver an exceptional experience. 
Tickets can be purchased online through the official event website https://www.mubadalaabudhabiopen.com/tickets/. Don't miss your chance to be a part of this world-class event from 3 to 11 February 2024, at the International Tennis Centre in Zayed Sports City. 
For further information including match schedules, and exclusive fan experiences, stay tuned to our website and official social media channels. Join us as we celebrate the spirit of tennis and championship-level competition at the Mubadala Abu Dhabi Open. 
MADO 2024 Ticket Prices   
Details

 

Qualifiers

 

Main Draw

 

3

rd

Feb

 

4

th

Feb

 

5

th

Feb

 

6

th

Feb

 

7

th

Feb

 

8

th

Feb

 

9

th

Feb

 

10

th

Feb

 

11

th

Feb

 

Ticket Category

 

Saturday

 

Sunday

 

Day 1 – Monday

 

Day 2- Tuesday

 

Day 3 – Wednesday

 

Day 4 – Thursday

 

Day 5 – Friday (QF'S)

 

Day 6 – Saturday (SF's)

 

Day 7 – Sunday (Finals)

 

Courtside seating

 

Free

 

Free

 

AED 95

 

AED 95

 

AED 95

 

AED 95

 

AED 595*

 

AED 695*

 

AED 695*

 

Premium (Category 1) Adult

 

Free

 

Free

 

AED 50

 

AED 50

 

AED 50

 

AED 50

 

AED 155

 

AED 165

 

AED 175

 

Premium (Category 1)

 

Child 2-12 

Free

 

Free

 

Free

 

Free

 

Free

 

Free

 

AED 50

 

AED 75

 

AED 85

 

Regular (Category 2)

 

Adult 

Free

 

Free

 

AED 25

 

AED 25

 

AED 25

 

AED 25

 

AED 50

 

AED 65

 

AED 75

 

Regular (Category 2)

 

Child 2-12 

Free

 

Free

 

Free

 

Free

 

Free

 

Free

 

AED 25

 

AED 25

 

AED 25

 

Weekly Pass

 

N/A

 

20% Saving

 

Finals Pass (Fri – Sun)

 

N/A

 

20% Saving

 
*Hospitality tickets available for purchase